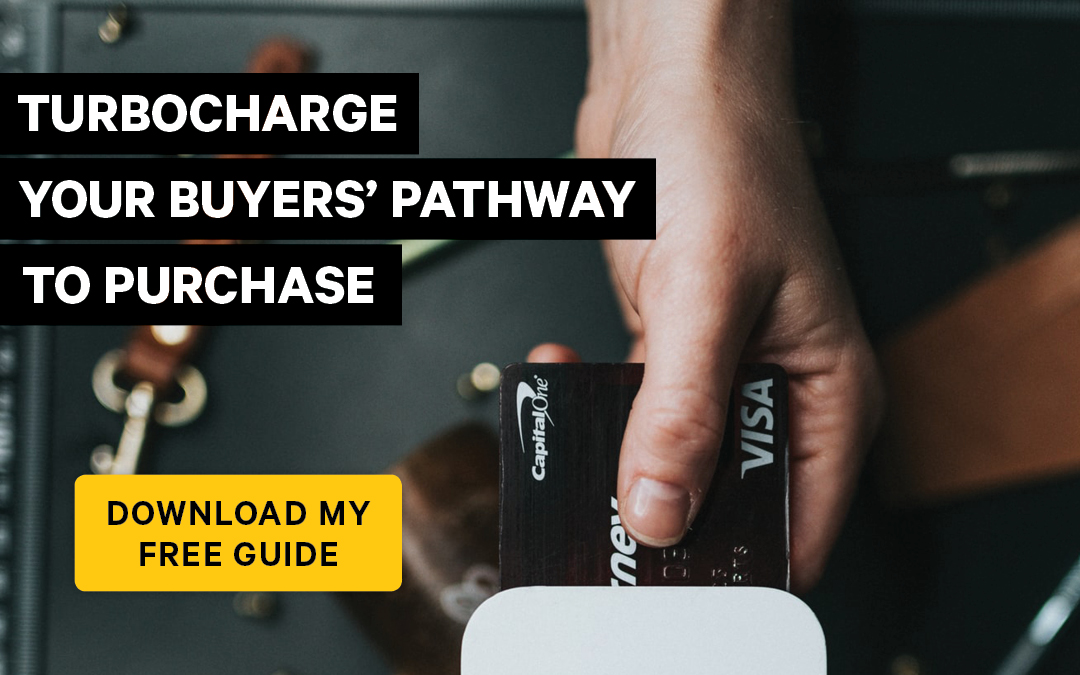 Since its launch in early 2018, DPR&Co's proprietary Pathway-to-Purchase (P2PTM) communications approach has delivered results for our clients that we're really proud of. P2P brings together brand and retail advertising, CX/UX and 'nurture' communications as part of a seamless brand experience, minimising sales funnel 'leakage' and brand message dissonance.
More recently, however, we've extended our P2P offering to harness the power of inbound marketing. It is helping to build traffic and customer conversion at every point down the sales funnel.
In simple terms, Inbound Marketing is a software and methodology that has the power to turbocharge your prospect engagement, delivering incremental benefits as your target customers moves toward a decision in your favour.
Inbound marketing versus marketing automation
How does that Inbound Marketing differ from standard marketing automation? A comparison between the two approaches can be found in the table below: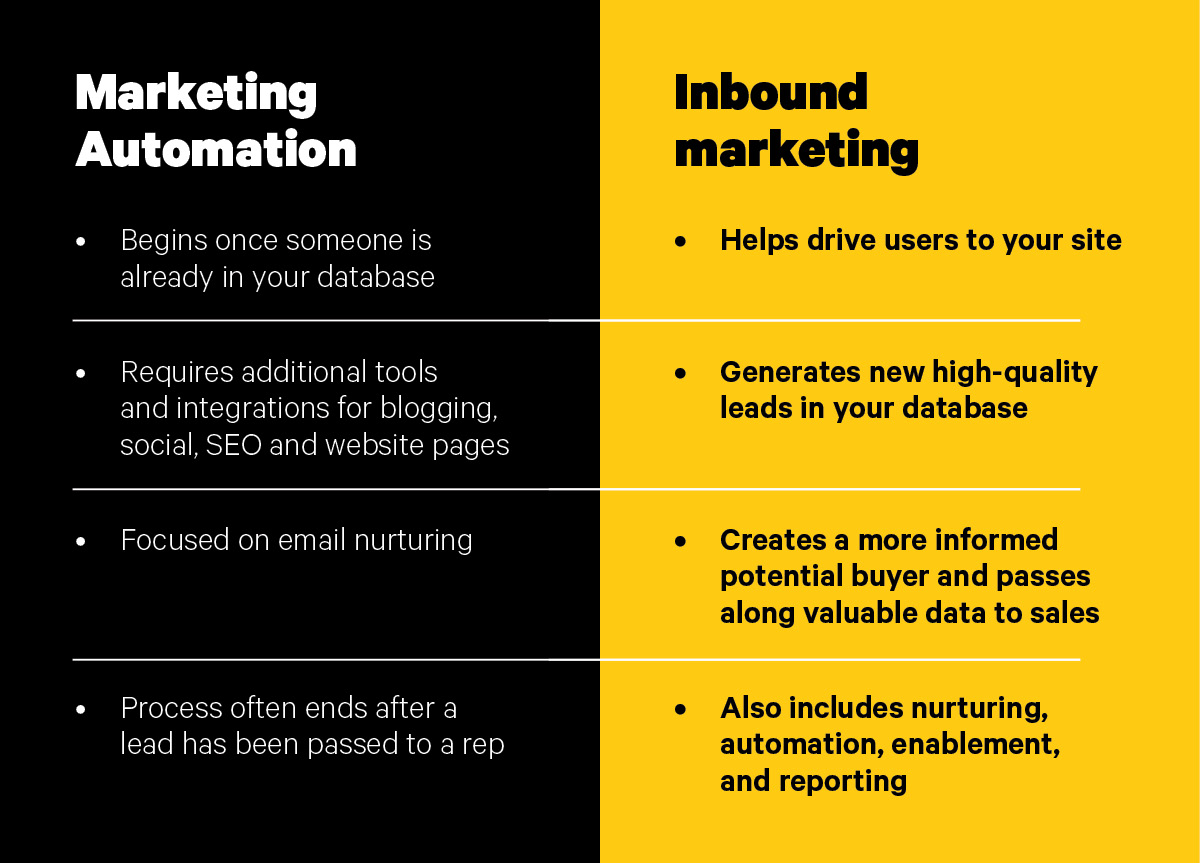 While some of the processes are similar, Inbound Marketing is based on newer generation technology. It can work along-side legacy systems or replace them. It offers a single source for your CRM, CMS, campaigning, marketing automation, lead capture and dashboarding – all at a fraction of the cost of legacy systems.
Inbound marketing - the agile approach to leveraging marketing technology
Inbound Marketing doesn't involve significant re-engineering of your infrastructure. Users have a choice of integrating everything on one platform or, through the use of simple APIs, link to your existing CRM or CMS. A typical time to bring Inbound to market would be 6-8 weeks.
Inbound marketing for demand generation AND conversion
So how does the innovation of inbound marketing sit within the range of services normally offered by an advertising agency?
The traditional advertising agency model is based on delivering building brand awareness and preference – delivering customers to the top of the sales funnel. At this point, they are 'handed off' to either internal teams, a CX provider/digital agency or left to their own devices. The number of times we've seen successful campaigns hit all the brand preference numbers only to fail due to poor response management is tragic.
It is simply no longer good enough to create noise at the top of the funnel, do some basic remarketing and hope for the best. In our view, brand advertising and lead management need to work as one powerful engine in order to be truly transformative.
The compounding effect of a great buyer journey
To illustrate this, we've prepared the following chart that demonstrates that the small incremental gains achieved by using inbound marketing methodologies compound into massive uplifts in performance.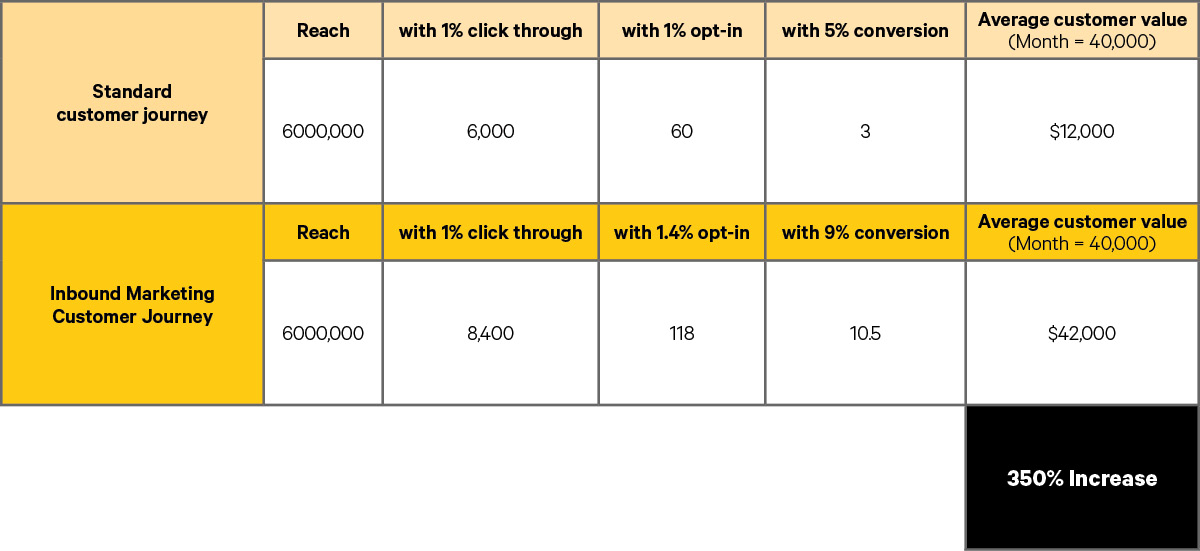 Integration, transparency and accountability
Our approach to P2P Communications and Inbound Marketing-based lead management brings all of the requisite skills under one point of management where they work in concert in the singular interest of the client.
This integrated approach means we work with our clients as one team under one brief toward a unified set of hard (usually financial) objectives. Our clients KPIs become ours. No-one can hide saying they delivered 'their bit' while the client is left to deal with sub-par ROI.
Like to know more about how P2P communications powered by Inbound Marketing can add power to your performance?
Download our free guide.